Industrial Painting
We are industrial and heavy commercial painting contractors offering competitive on-site painting for less corrosive environments, with the same commitment to safety and detail as in our coating and lining installations.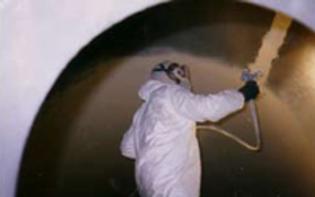 We examine site conditions, including substrate, location, and environmental concerns before selecting the appropriate materials for best performance and longevity.  Our close association with material suppliers help us select the right system for your facility.
The materials we install are environmentally safe and conform to all safety, industry, and environmental standards.  We use only approved safety gear, scaffolding, manlifts, and any other equipment on every application.
Projects include structural steel, interior/exterior structures and equipment, storage tanks, piping, support structures, and buildings.  Proper substrate cleaning, surface preparation, installation, and cleanup are part of every job.
In addition to standard applications, we work with products that can be installed in almost all weather conditions.  With moisture-cured products and materials capable of curing at temperatures as low as 20 degrees Fahrenheit, there is virtually nothing that will stand in our way from completing a project successfully.